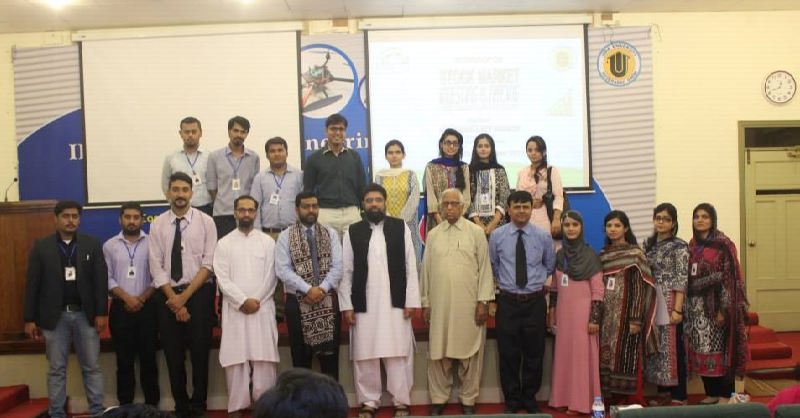 Workshop on, "Stock Market investing and trading"
Isra University Economics and Finance Society organized a one day workshop on, "Stock Market investing and trading" on September 4th, 2015 at Asadullah Kazi Auditorium, Isra University Hyderabad. IEFS has come up with its unique initiative to train students by indulging them in real life trading and investing. The workshop aimed to generate young entrepreneurs by inculcating the sense of investment in stock markets and enhancing their financial skills. The workshop trained the participants in analytical and decision making techniques essential for trading in stock markets. Stock markets have played a significant role in boosting economies and so do investors, hence present era demands trained and experienced investors to deal with today's dynamic market.
The guest speaker of the event Mr. Abdul Latif Memon branch manager at JS Global Capital Limited explained about the tools of trend analysis used by professional brokers. He shed light on the important considerations for new investors. He provided a thorough overview of real time trading in stock market through online terminal to demonstrate how the environmental scenarios and situations create sentimental risk. "Trading involves considerable amount of risk and to be profitable you must possess good tolerance of risk", he said.
He added, "Investing is not only for individual profit but is important activity when it comes to economy of the country".
Pro Vice Chancellor Dr Hameedullah Kazi appreciated the efforts of team IEFS and enthusiasm of participants on the event. He said, "Such events acts as a key in building confidence of students introducing them with current market trends, opportunities and threats and providing them hands on experience to their upcoming challenges".
More than 150 students from Isra University and other universities of Hyderabad participated in the event making it a huge success. Students said that they look forward for such extra-curricular activities that let them implement their studied phenomena as well as expose them to the practical world.
Access Token not set. You can generate Access Tokens for your Page or Profile on fb.srizon.com. After generating the access token, insert it on the backend
burst_total_pageviews_count:

10