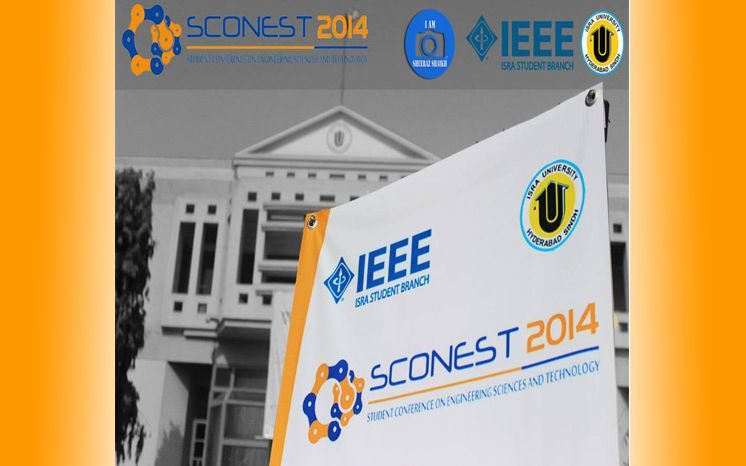 Sconest 2014
Student Conference on Engineering Sciences and Technology (SCONEST) 2014 is the most vital series of Research paper competition from Institute of Electrical and Electronics Engineers (IEEE) International, to introduce new scientists and Engineers with the field of purposeful and scientific research. It is held every year in different universities from across Pakistan as it is a national level event.
This year's SCONEST was held on Saturday, 13 September, 2014 at Isra University, Hyderabad under the banner of IEEE International and was organized by IEEE Isra Student Branch, Isra University, Hyderabad. The conference was attended by nearly 350 students. 75 research papers on different areas/topics were submitted in initial stage out of which 30 research papers were shortlisted to be presented at SCONEST 2014. The top 3 research papers were selected and sent to be published at a research journal of IEEE International. The researchers were mostly from Lahore, Peshawar, Rawalpindi, Faisalabad, Islamabad, Khairpur, Nawabshah, Swabi, Karachi, Jamshoro and Hyderabad.
The Conference was categorized on three sections i.e. Opening Ceremony, Closing Ceremony and the four paper presentation Sessions A, B, C & D. The chief guest in the opening ceremony of SCONEST 2014 was Prof. Dr. Mujeeb Sahrai Memon, Vice Chancellor, Sindh Agriculture University, Tandojam. The guests of honor on the occasion were Prof. Dr. Ghulam Qadir Kazi, Vice Chancellor, Isra University, Hyderabad and Prof. Dr. Asadullah Kazi, Chancellor, Isra University, Hyderabad.
In the opening ceremony the welcome address was given by Prof. Dr. Hameedullah Kazi, Chair, SCONEST 2014, Head of Executive Council, IEEE Isra Student Branch, Pro Vice Chancellor, Engineering and Management Sciences, Isra University, Hyderabad. He welcomed the authors, dignitaries, guests and participants.
Prof. Dr. Mujeeb-u-ddin Sahrai Memon, Vice Chancellor, Sindh Agriculture University, Tandojam spoke on the occasion and encouraged the participants to participate in these conferences and highlighted the art of research as well as said that informative conferences like these are quite useful for the research & development of innovative students. He also congratulated the organizing committee of SCONEST 2014, IEEE Isra Student Branch, for organizing such a successful national level conference at Isra University, Hyderabad.
SCONEST 2014 was sponsored by Isra University, Higher Education Commission Pakistan (HEC), RASTEK and IEEE Karachi Section. The dignitaries, authors, participants and guests were served with lunch and high tea. The participants were also facilitated with the conference bags, proceedings of SCONEST 2014, souvenirs and other informative materials.
The four paper sessions that followed the opening ceremony were held where authors from different universities presented their research work. The areas that were addressed included Electrical, Electronics, Telecommunication, Civil, Mechanical, Computer Science, Software Engineering and IT. The authors put all out efforts to apprise the listeners on the new trends of modern technology.
In the end the closing ceremony was held where all the authors anxiously waited for the results to be announced. Engr. Saad Khan Baloch, Counselor, IEEE Isra Student Branch and Assistant Professor, Electrical Engineering Department, gave the vote of thanks. In the closing ceremony Prof. Dr. A. G. Kazi, Pro-Vice Chancellor, Isra University, Hyderabad was the Chief Guest. The Chief Guest presented awards and shields to the organizers and the authors. The top three paper presenters were awarded with shields and cash prizes. All in all the conference was a huge success.
burst_total_pageviews_count:

9