One day PEC "CPD Seminar"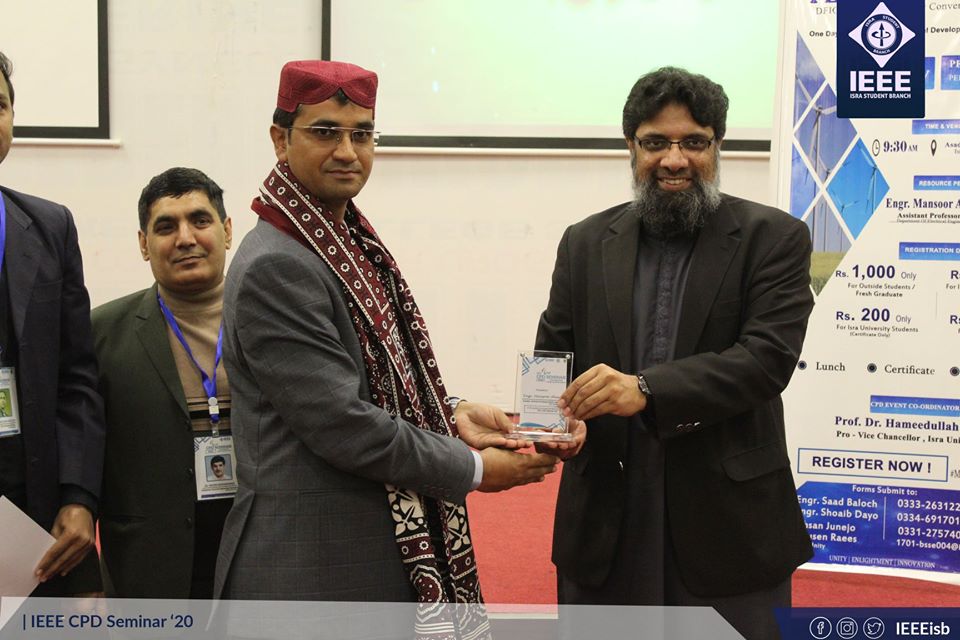 Isra University in assistance with IEEE Isra Student branch organized one day PEC "CPD Seminar" DFIG based wind Energy Conversion System in collaboration with PEC at Asadullah Kazi Auditorium, Isra University, Hyderabad on Monday 27th January, 2020.
Facilitator of the session was Engr. Mansoor Ahmed Soomro, Assistant Professor/ PhD Scholar, MUET Jamshoro, Hyderabad. His great wisdom and expertise in this field widened knowledge of the attendees.
Pro-Vice Chancellor, Engineering & Management Sciences, Head of Executive Council, IEEE Isra Student Branch, Professor Dr. Hameedullah Kazi started the seminar with a welcome address followed by the distribution of traditional souvenirs to our honorable speaker Engr. Mansoor Ahmed.
After that, our respected speaker delivered his profound knowledge by dividing it into three distinct sessions as it was a full day CPD Seminar. After the first session, there was a mini tea break of 15 minutes followed by a lunch break after the 2nd session. Our great speaker Engr. Mansoor wonderfully executed his profound understanding for this respective topic in 3 sessions apprised with technical knowledge about DFIG Wind Energy Conversation Systems.
The seminar was concluded with a vote of thanks by Chair, IEEE ISRA Student branch, Ms. Kousen Raees.
This seminar was attended by numerous students from different disciplines of Isra University, Hyderabad. The objectives of this seminar were to generate the consciousness for technical knowledge regarding DFIG Wind Energy Conversation Systems and enhance skills in it.
burst_total_pageviews_count:

6