Isra University Commemorates "Kashmir Black Day" with an Awareness Seminar and Walk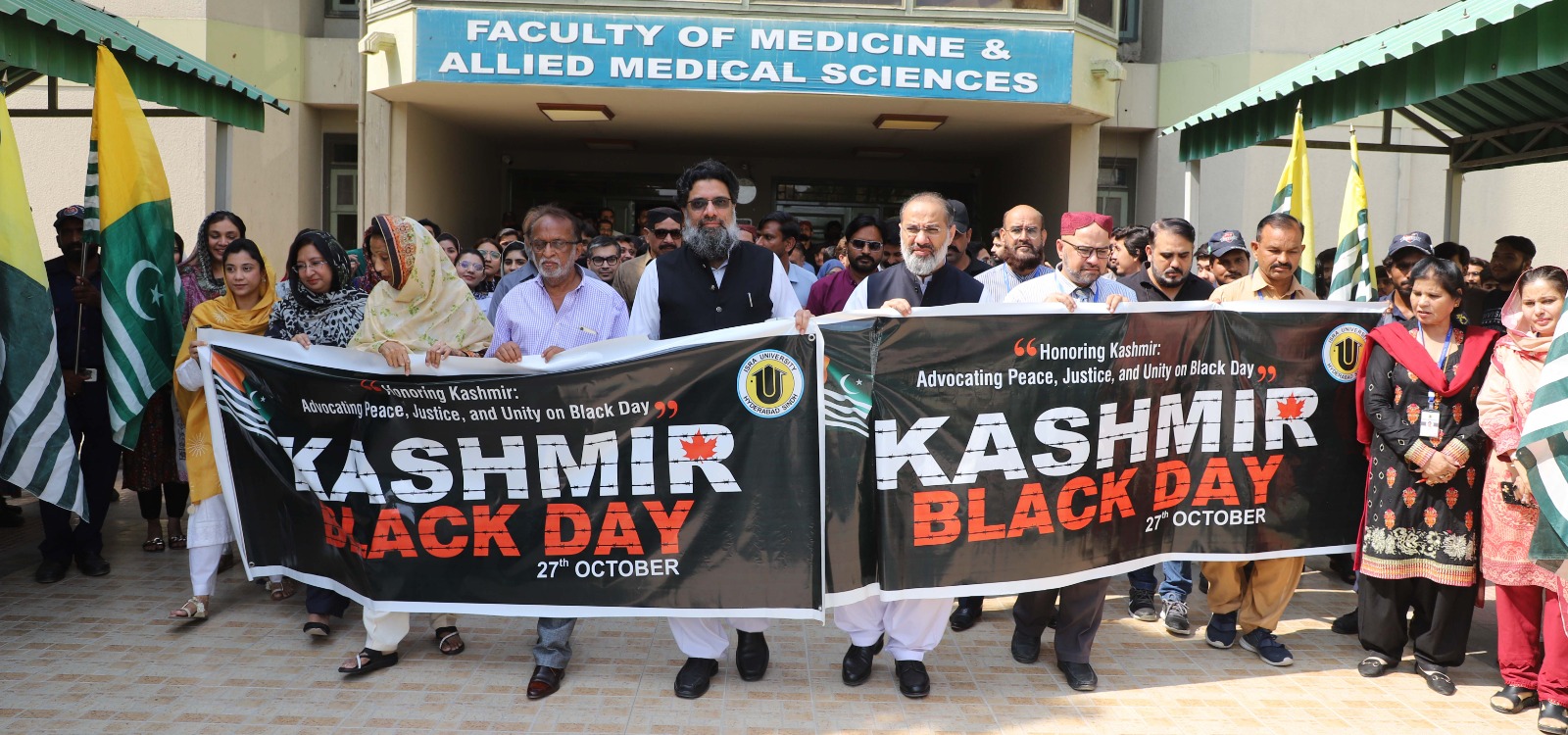 Hyderabad: Isra University took a stand for justice and human rights by organizing a seminar and awareness walk to observe "Kashmir Black Day" in 2023. The event brought together esteemed dignitaries, including the university's Vice Chancellor, Dr. Ahmed Waliullah Kazi, deans, faculty members, students, and staff, to raise awareness about the ongoing crisis in Kashmir.
The event commenced with a powerful video presentation, shedding light on the historical significance of Kashmir Black Day and the harrowing atrocities inflicted upon the Kashmiri people by Indian security forces. It was a stark reminder of the grim situation faced by the residents of the Indian Illegally Occupied Jammu and Kashmir (IIOJK).
The audience was deeply moved by the heartfelt speeches delivered by the Vice Chancellor, Dr. Ahmed Waliullah Kazi, Former Chancellor of Isra University Prof. Dr. Hameedullah Kazi and the students. They shared the stories of exile, agony, and mental torment of Kashmiris, providing firsthand accounts of the victims of the brutal Indian occupation in IIOJK. The speakers passionately decried the criminal silence of the international community in the face of Kashmir's suffering, with the constant perpetration of crimes against humanity and genocide. They affirmed their unwavering commitment to the pursuit of self-determination, in accordance with the resolutions of the UN Security Council.
Dr. Ahmed Waliullah Kazi, the Vice Chancellor of Isra University, and Former Chancellor of Isra University Prof. Dr. Hameedullah Kazi emphasized the illegal occupation and subsequent annexation of Kashmir by India, which has been condemned not only by the people of Kashmir and Pakistan but by the global community. This action stands in stark contradiction to the United Nations Charter and established norms of international law. The Vice Chancellor drew attention to the brutal atrocities committed by Indian security forces and called upon the world community to raise their voices in defense of human rights and the right to self-determination for the people of IIOJK.
The event served as a poignant reminder that the 27th of October is observed as Kashmir Black Day worldwide. It was on this day, 76 years ago, that India forcibly took control of the State of Jammu and Kashmir without legal justification. Since then, the people of Kashmir have endured a relentless onslaught, as they continue their peaceful struggle for their right to self-determination.
Isra University's commendable efforts in organizing this seminar and awareness walk highlight the importance of international awareness and solidarity in addressing the ongoing crisis in Kashmir, and the pursuit of justice for the Kashmiri people.
Spokesman
Isra University, Hyderabad
burst_total_pageviews_count:

38