Awareness Walk on CORONA VIRUS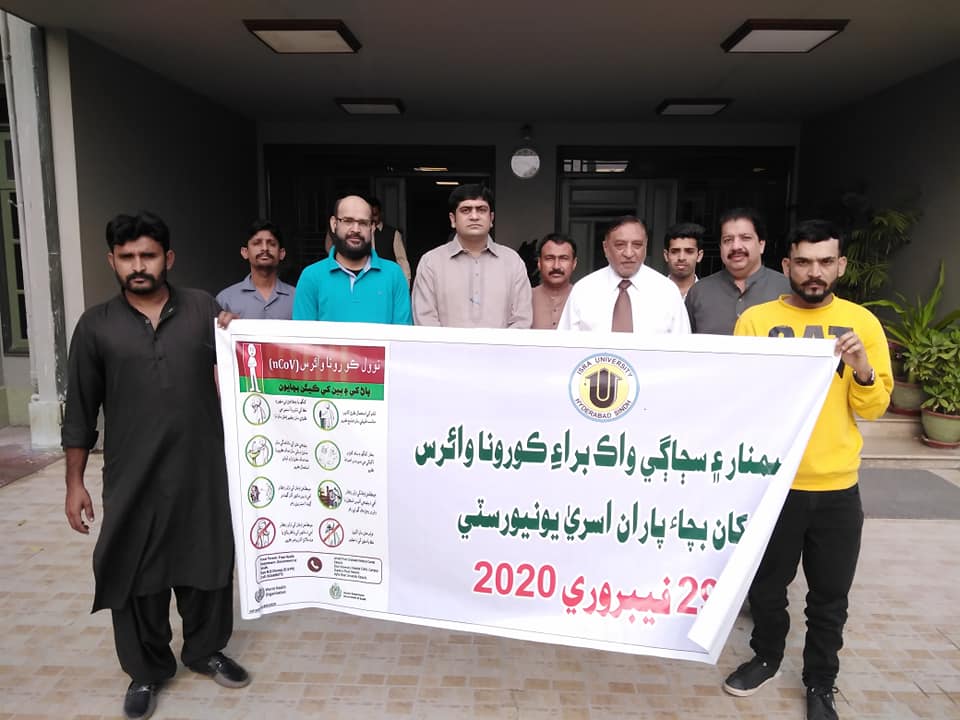 A seminar and awareness walk on CORONA VIRUS PREVENTION AND MANAGEMENT was organized jointly by department of Community Medicine and department of Medicine ISRA UNIVERSITY HYDERABAD was held today 29-Feb-2020 in which students of MBBS, BDS, Nursing, DPT and Paramedical school participated a large number of House officers, Post graduates, Consultants, Professors and teaching faculty as well as administration officer participated. The walk and seminar was addressed by President Academy of Family Physicians Hyderabad DR. LALA JAFFAR KHAN and PROF. KHALIDA NAZ MENON Dean Faculty of Community Medicine and Public Health LUMHS. Prof. Hussain Bux Kolachi Dean Basic Medicine sciences ISRA UNIVERSITY HYDERABAD told the participants that CORONA VIRUS Infection is declared by WHO as public health emergency of international concern and has affected 60 countries including Pakistan. Over 80,000 cases and 3000 deaths are causes by this RNA virus similar to SARS and MERS viruses. Hence WHO has named SARS-2 virus and disease caused by it as CoVid-19 which first time reported from China Huwan city. The prevention told by specialists in their presentations were as follows:
Hand washing with soap or Sanitizer for 20 seconds minimum.
Use of personal protective equipment like Mask N95 and Gown, Gloves.
Avoidance of public gatherings, Shopping malls.
Quarantine of affected or suspected at least for 14 days.
Taking rest and sleep for 8 hours.
Getting medical checkups flu, fever, breathing difficulty by qualified medical doctor, hospital.
All hospitals and health facilities arrange awareness and early diagnosis facilities.
NIH Islamabad guide lines and WHO guide lines be followed.
Seminar and walk was also attended and addressed by Prof. Shams Din Solangi, Prof. Abdul Aziz Qureshi, DR. Saima Jatoi, Prof. Hussain Bux Kolachi, DR. Lala Jaffar Khan, Prof. Khalida Naz Memon, DR. Sajjad Kazi, Asst. Prof. Naveed Ali Qadri.
Advisor to chancellor MR. Noor Muhammad Panhwar, Director HR Noman Kazi, Dr. Sajjad Kazi were also present.
PROF. HUSSAIN BUX KOLACHI
DEAN BASIC MEDICAL SCIENCES
ISRA UNI HYD
burst_total_pageviews_count:

3