AL-TIBRI MEDICAL COLLEGE & HOSPITAL
ISRA UNIVERSITY, KARACHI CAMPUS
MBBS Admissions 2021-22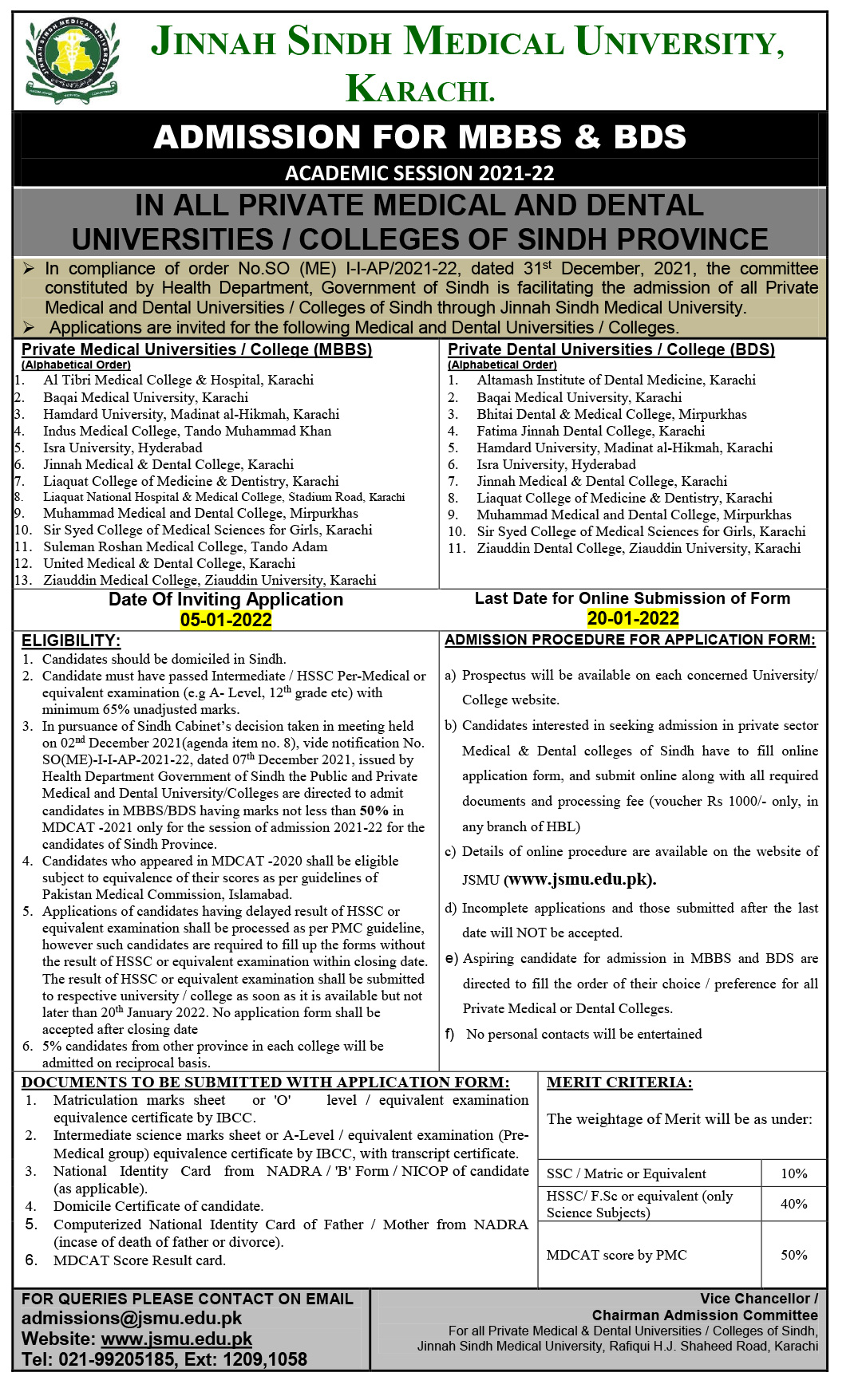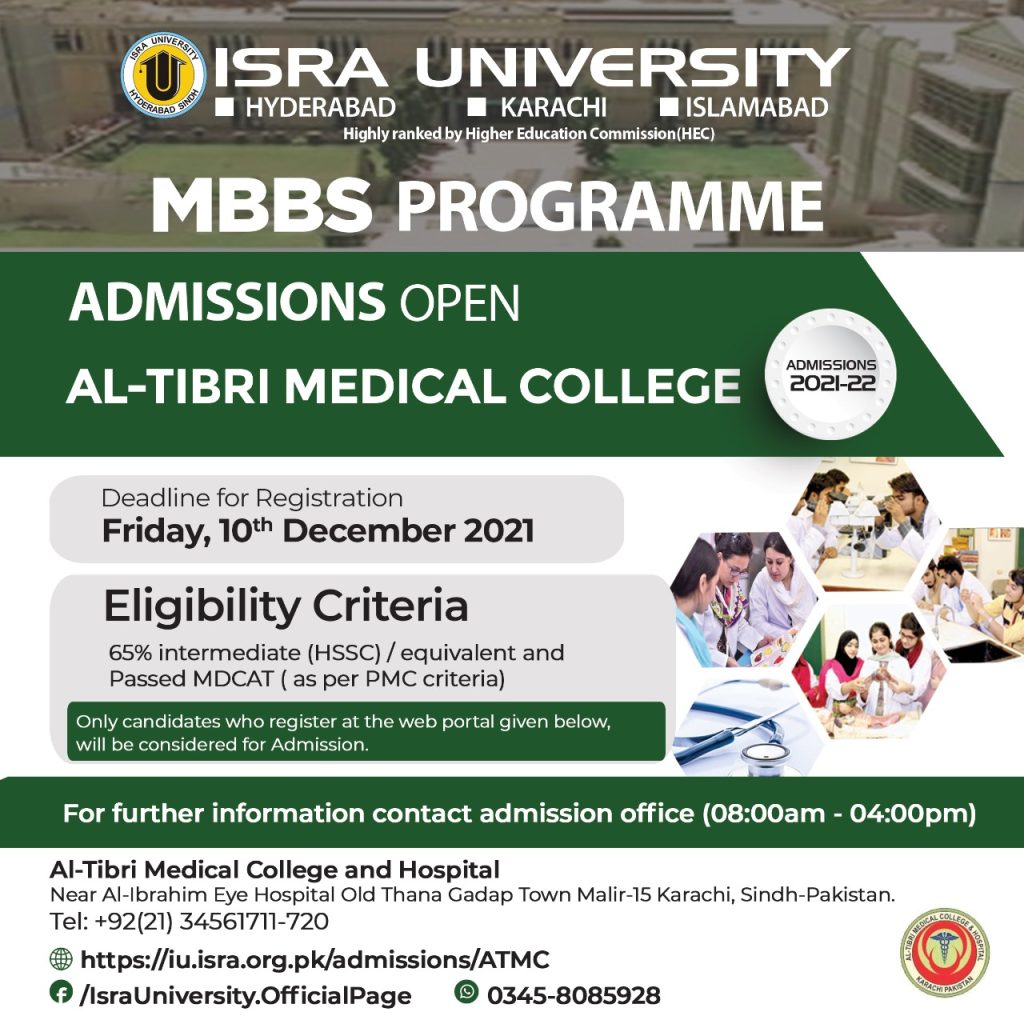 Admission Schedule:
Sr. #
Description
Dates
1
Online Registration
Open till Friday. 10th December, 2021
2
First Merit List
Wednesday 15th December, 2021
3
Deadline for Fee Submission
Within 3 days after admission is offered
4
Commencement of Classes
End of January 2022
Helpline: 02134561711-720 Extension 114

---



Eligibility Criteria / Prerequisites ( As per PMC regulation2021) 
The minimum academic requirements following different systems of education, to be eligible to apply, are outlined here.
Pakistani System of Education
Higher Secondary School Certificate (HSSC) in pre-medical group with a minimum aggregate of 65%.
British or Equivalent Advanced Level Certificates of Education
Advanced Level (A-Level) in biology, chemistry and physics/mathematics.
American and Canadian High School Diploma
High School (Grade g-12) Candidates must have studied Biology, chemistry and physics/mathematics at High School Level.
International Baccalaureate Diploma
Completed the International Baccalaureate (IB) Candidates should have studied Biology, chemistry and physics/mathematics at either the higher or the standard/subsidiary level.
Obtaining an Equivalence Certificate:
Candidates following systems of education other than Pakistani Higher Secondary School Certificate pre-medical Group must obtain an equivalence certificate from the Inter Board Committee of Chairmen (IBCC). The equivalence certificate should verify that the candidate high school qualification is equivalent to a high school qualification in Pakistan with a minimum aggregate achievement of 65%.
Admission Requirements for all categories:
All candidates (Pakistani & Foreigner) must have passed Medical & Dental Colleges Admissions Test (MDCAT), conducted by the National Medical Authority.  As per PMC passing criteria for the current year.
These rules are according to PMC regulations 2021 which are subject to any revision by the Pakistan Medical Commission  
Psychiatric/Psychological & Physical Health Assessment:
Due to the particular nature and demands of the profession, a candidate admission should possess adequate mental & physical health to be able to obtain medical education as prescribed and sustain its rigors and should be able to practice medicine after candidate has qualified and registered as medical practitioner.
Psychiatric/Psychological & Physical Health Assessment is a mandatory part of the admission process based on the performance of the candidate and the final decision of the committee, the college has the right to refuse admission if candidate is found unfit for this profession. And the same information will be shared with the Pakistan Medical Commission.
If the candidate is suffering from a known psychiatric disorder/psychological problem. It is mandatory to inform the college authorities along with details of treatment if candidate is taking any psychiatric medicines then a documented evidence/medical certificate by the treating physician should be produced at the time of admission.
If the candidate is found taking any recreational drug/substance of abuse at the time of admission or during stay in the college candidate can be subjected to random drugs screen/urine examination and the strict disciplinary action may be taken in this regard which can result in candidate`s expulsion from the college.
Merit Distribution:
| | | |
| --- | --- | --- |
| S.# | Description | Weightage |
| 1 | HSSC or Equivalent 12th Grade Qualification | 50 % |
| 2 | MDCAT | 50 % |
Fee Schedule MBBS 2021-2022 – For Regular Students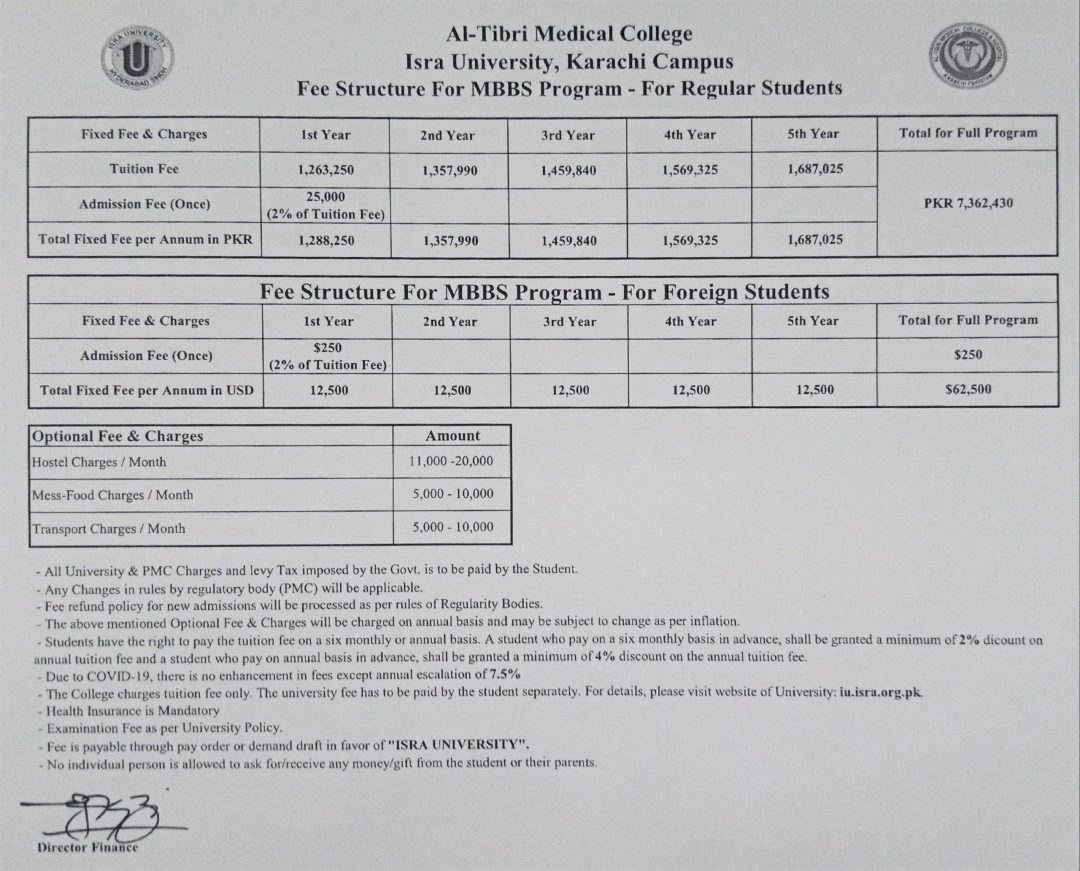 * Refund of fees & other Charges will be according to PMC rules.
*Tax will be charged as per the policy of Government of Pakistan.
Payment of Fee
The fee and other dues are payable by bank draft/pay order in the favor of " ISRA UNIVERSITY "
No payments in the form of cash are acceptable at Isra University Admissions Office/Accounts office.
burst_total_pageviews_count:

918